Neal Bawa is Founder and CEO at Grocapitus Investments, a commercial real estate investment company. Neal sources, negotiates and acquires commercial properties across the U.S. He is a sought after speaker at Multifamily events, IRA events & MeetUps across the country.
Nearly 4,000 students attend his multifamily seminar series each year and hundreds attend his Apartment Magic Bootcamp
Co-founder of the largest Multifamily Investing MeetUp network in the U.S.
Accomplished single family and multifamily investor
Owns single families, duplexes, tri-plexes and quad-plexes in CA and IL.
Active and passive investor in multifamily and commercial syndications in TX, NC, KS, OH, NV, UT, FL and IL.
Taught Fundamentals of Multifamily investing, Real Estate Trends and Deal Analysis to 2000+ students, including investors from three different IRA companies
Raised tens of millions of dollars to buy  student housing and multifamily projects
Neal has a special knack for teaching and gets rave reviews from his presentations and training sessions. Neal also enjoys meeting with people one-on-one to understand their real estate goals, aspirations and challenges.
Neal is a backyard tomato farmer and a protein diet health nut. He believes in positivity and Karma. He is passionate about cricket and the enormous potential of self-driving electric vehicles to solve the global climate crisis.
If you would like to chat with Neal by phone or at a Bay Area Starbucks (he loves coffee), give him a call or send him an email.
$40 Million Equity
Invested in Neal's projects
1,800+ Units
Across 9 states
400+ Investors
Invested in Neal's projects
150+ Million
Value of Neal's projects
The educational arm of Grocapitus Investments, MultifamilyU is all about creating incredible value in the real estate investment education sphere.
While other training programs tend to focus more on mentoring and mindset, MultifamilyU is dedicated to the proposition that having the right tools, data, and core competencies is more important than just achieving warm and fuzzy feelings about investing. After all, what good will a positive mindset do you when you make a bad deal and wind up losing money?
To that end, we provide an abundance of interesting and profound free content designed to give you an edge in multifamily investing and to ensure your continuing success.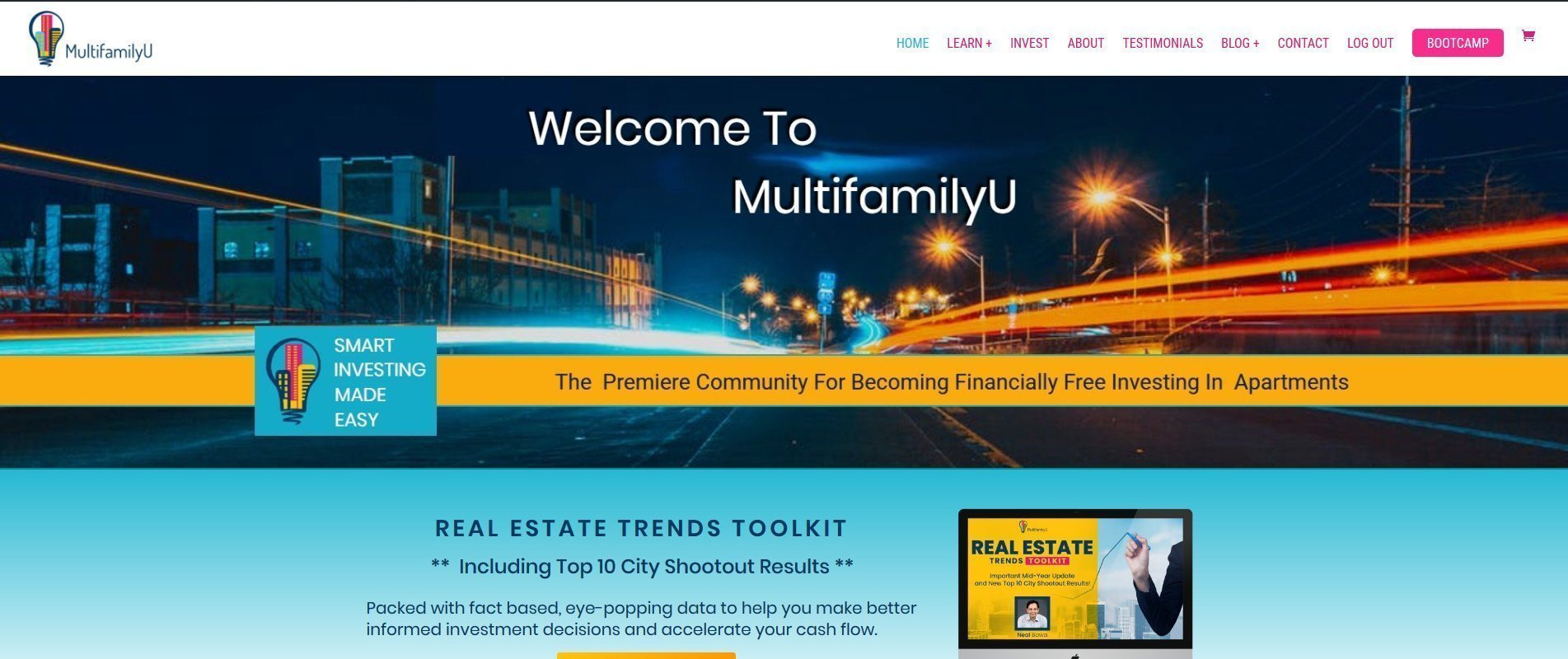 Grocapitus Investments exists to find and present rock solid commercial real estate investments to our highly valued capital partners. In addition to producing attractive risk-adjusted returns for our investors, we strive to enhance the life of every tenant, team member, and individual that comes into contact with our business.
We help people become financially free by investing in apartment buildings, student housing, and senior housing properties in high-quality markets nationwide. To accomplish this on a consistent basis, our rock star team executes our proprietary data-driven process for identifying, acquiring, managing, stabilizing, optimizing and divesting cash-flowing value-add Class B and C properties. We also build best in class new construction, multifamily, student housing, and senior housing projects.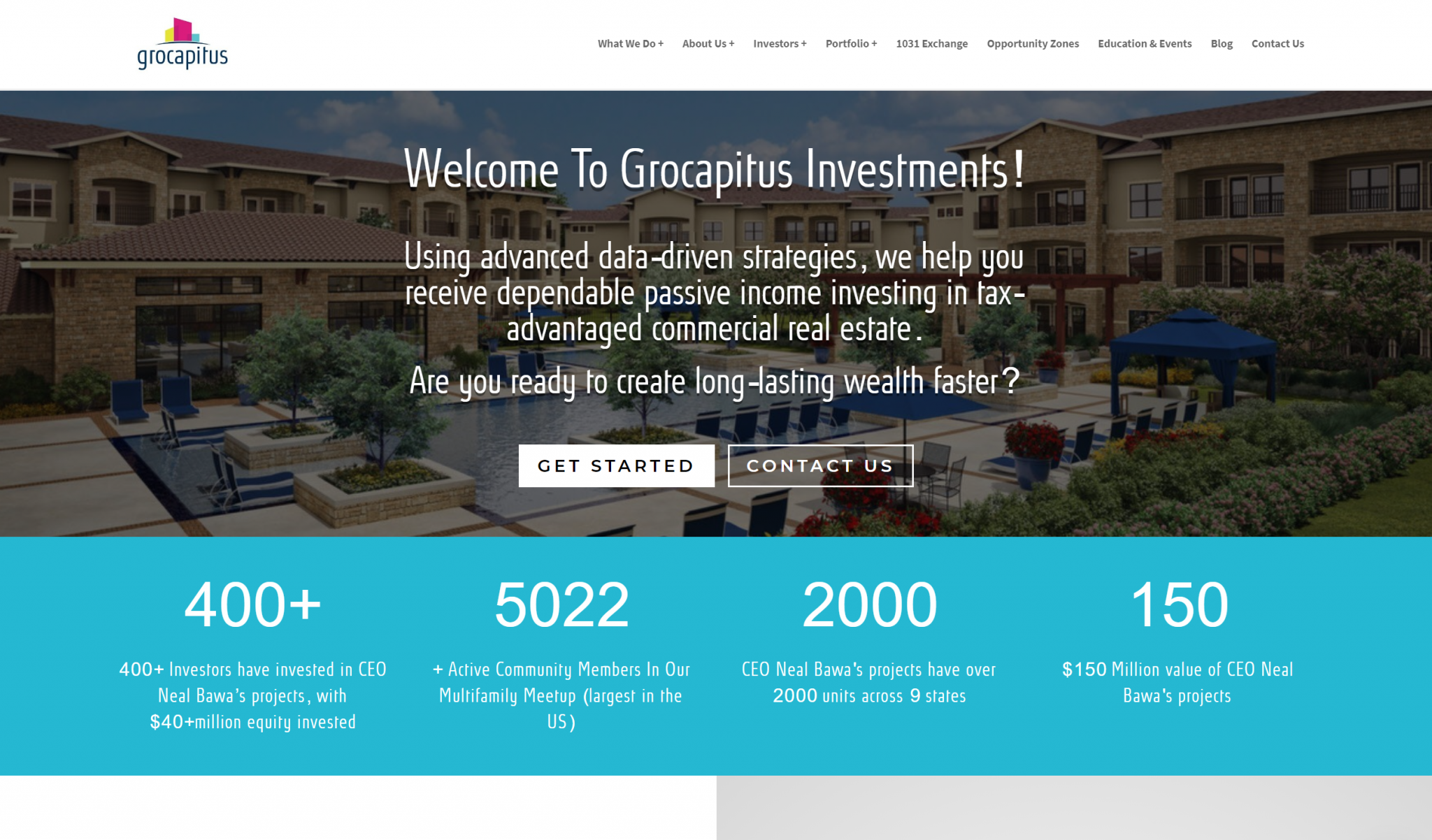 Neal's Podcast Appearances
"You get access to your live class recordings, lots of extras, too many to list here. But he doesn't offer any other classes, no mentorship program. He doesn't have to. The info he gives will melt your brain. You don't need anything else to get started. If you want your hand holding through the process there are good mentors out there. But you won't find one for this price…"
— Stephen Fahey, BiggerPockets Review, March 2019
"Neal's MultifamilyU eBootCamp delivered fresh ideas, actionable content, and valuable resources in a super convenient, yet intimate and interactive format – with absolutely no fluff or sales pitches. His command of the material, rapid and energetic delivery, and real world experience combined for the perfect 'crash course' over a 2 week period. I'm already in a dozen MF deals yet I still…"
— David G. (Florida), March 2019
"It's easy to endorse the Boot Camp on Multifamily Real Estate that you provided. I have attended many seminars on real estate and yours was, by far, the best. In one day you provided so much great content and insight that I have nothing to compare it with. The access to the trove of material you provided afterwards just doubled down on the value you provided. I would even go again."
— Mark Kamstra
"This was an excellent, hands-on working session that went deeper than almost any Meetup training one could expect. Neal is clearly an expert in both real estate investing and efficiency. There is so much he could automate or outsource, it makes it possible to scale up faster with less cost and risk. Great session!"
— Ryder Meehan – on Apr 10, 2017